Alex Katz featured in Untitled Magazine
Featured in Untitled Magazine's list of "10 Must-See Artworks" from the 2022 edition of the IFPDA Print Fair are Alex Katz' Ada Four Times, 1979-80, and Brisk Day II, 1990.
"Marlborough's booth showcases the work of Alex Katz, who started printmaking on top of his painting career in 1965, often portraying dramatically cropped individual portraits in his oeuvre. He has been the subject of over 250 solo exhibitions and almost 500 group exhibitions, including showcases at the Whitney Museum of American Art and the Solomon R. Guggenheim Museum, where he is currently on view through February 20th, 2023. Ada, his wife and model, often appears in his work."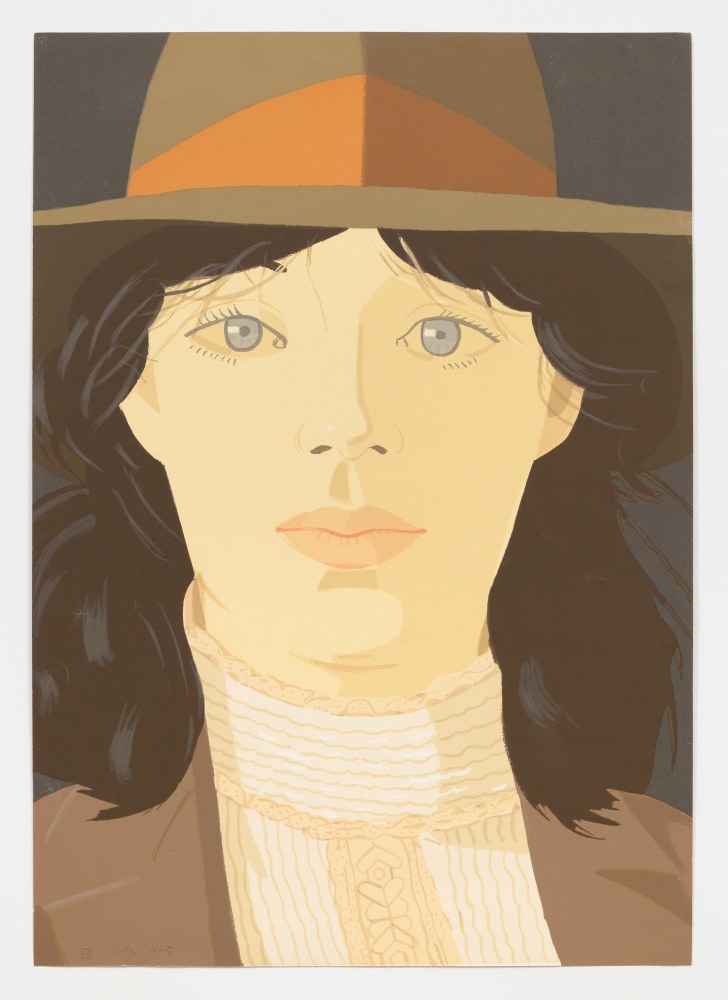 From 1973 to 1999, Alex Katz held twenty solo exhibitions at Marlborough's galleries in New York, London, Zürich, Tokyo, and Madrid. In honor of his retrospective, Gathering, at the Solomon R. Guggenheim Museum, Marlborough Graphics is proud to present a selection of paintings, drawings and iconic prints created from the 1970s to 1990s at the 2022 International Fine Print Dealers Association (IFPDA) Print Fair.
Born in Brooklyn in 1927 and raised by Russian émigré parents in St. Albans, Queens, Alex Katz was encouraged artistically from a young age. In 1946, after a yearlong tour with the U.S. Navy, he enrolled in the Fine Arts department at The Cooper Union in Manhattan. "At Cooper, I went from someone who was basically incompetent to being the best painter in the school." A summer scholarship to the Skowhegan School of Painting and Sculpture in 1949 brought his practice out en plein air, and into the richly lit landscape of coastal Maine, where he continues to live and work parttime today.
Katz first began experimenting with printmaking in 1947 while he was at The Cooper Union in Manhattan, where he received a BA in 1949. Though the artist moved away from printmaking for nearly a decade, Katz returned to the medium in the mid-1960s with vigor. Utilizing a wide variety of printmaking techniques, Katz has created more than 400 editions of lithographs, etchings, silkscreens, woodcuts, and linoleum cuts. Most often, Katz's prints are reworkings of his paintings, printmaking serves as a vessel to play with elements of color, shape, and form, creating works that deviate from their original.
Katz began showing at Marlborough with a solo exhibition in New York in 1973. Over the next twenty-six years Marlborough would mount nineteen more shows devoted to the artist between the New York, London, Zürich, Madrid, and Tokyo galleries.
Katz's work is found in over one hundred public collections worldwide. Mostly notably, those in the U.S. include the Albright-Knox Gallery, Buffalo, New York; Art Institute of Chicago, Chicago, Illinois; Brooklyn Museum, Brooklyn, New York; Carnegie Museum of Art, Pittsburgh, Pennsylvania; Des Moines Art Center, Des Moines, Iowa; Detroit Institute of Art, Detroit, Michigan; High Museum of Art, Atlanta, Georgia; Hirshhorn Museum and Sculpture Garden, Smithsonian Institution, Washington, District of Columbia; The Jewish Museum, New York, New York; Los Angeles County Museum of Art, Los Angeles, California; The Metropolitan Museum of Art, New York, New York; Milwaukee Art Museum, Milwaukee, Wisconsin; Museum of Fine Arts, Boston, Massachusetts; The Museum of Modern Art, New York, New York; National Gallery of Art, Washington, District of Columbia; Philadelphia Museum of Art, Philadelphia, Pennsylvania; Wadswoth Atheneum, Hartford, Connecticut; and the Whitney Museum of American Art, New York, New York.
Internationally, Katz's work can be found in the collections of the Albertina Museum, Vienna, Austria; Centre Georges Pompidou, Paris, France; Guggenheim Museum, Bilbao, Spain; Institut Valencià d'Art Modern Julio González, Valencia, Spain; Musée Cantonal des Beaux-Arts, Lausanne, Switzerland; Museo Nacional Centro de Arte Reina Sofía, Madrid, Spain; Museo Rufino Tamayo, Mexico City, Mexico; Museum Moderner Kunst, Vienna, Austria; Museum of Contemporary Art, Tokyo, Japan; National Gallery, Berlin, Germany; National Gallery of Scotland, Edinburgh; Scotland; Sonje Museum of Contemporary Art, Kyonqiu-Shi, South Korea; and Tate Gallery, London, England, among others.
Jacob K. Javits Center
The River Pavilion
429 11th Avenue (between 35th & 36th Street)
New York, NY 10001
VIP Hours Thursday, October 27 | 12:00-8:00pm
Public Hours Friday, October 28 | 11:00am-7:00pm
Saturday, October 29 | 11:00am-7:00pm
Sunday, October 30 | 11:00am-5:00pm